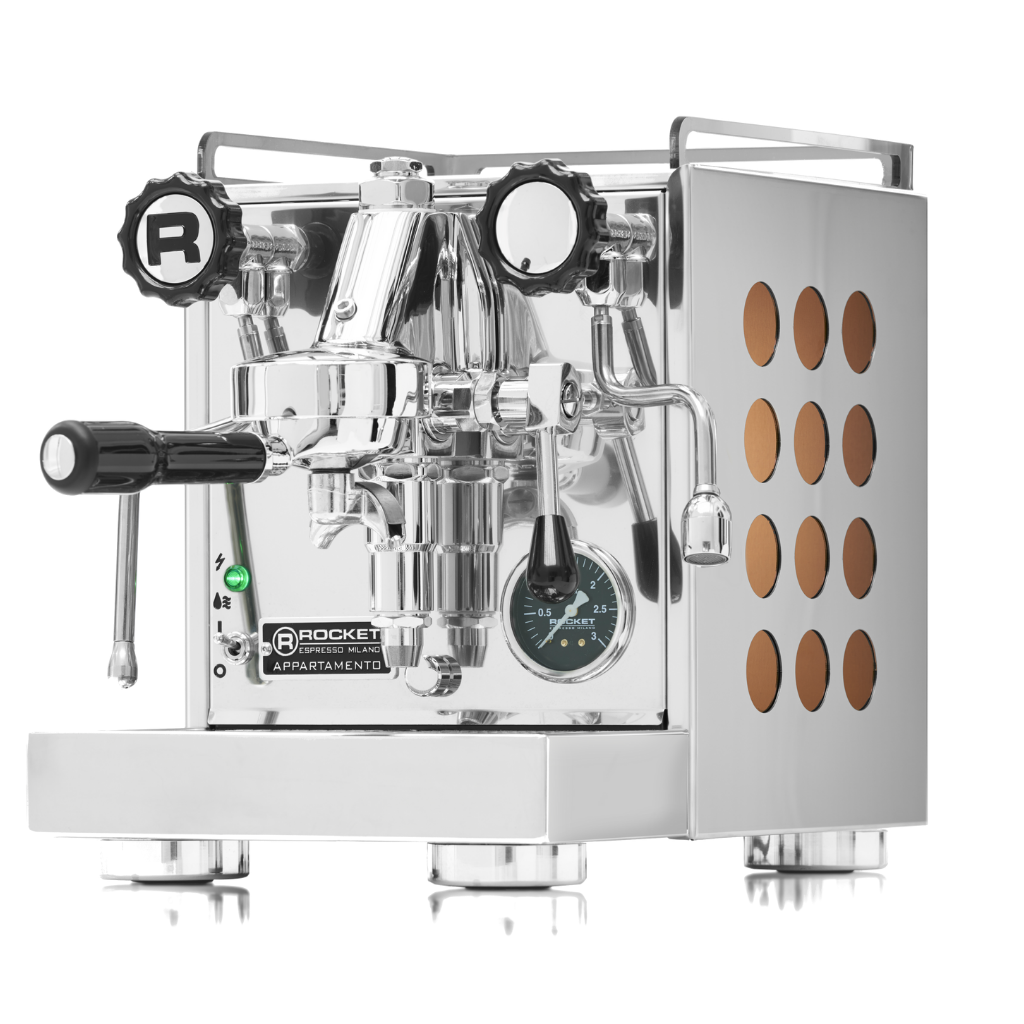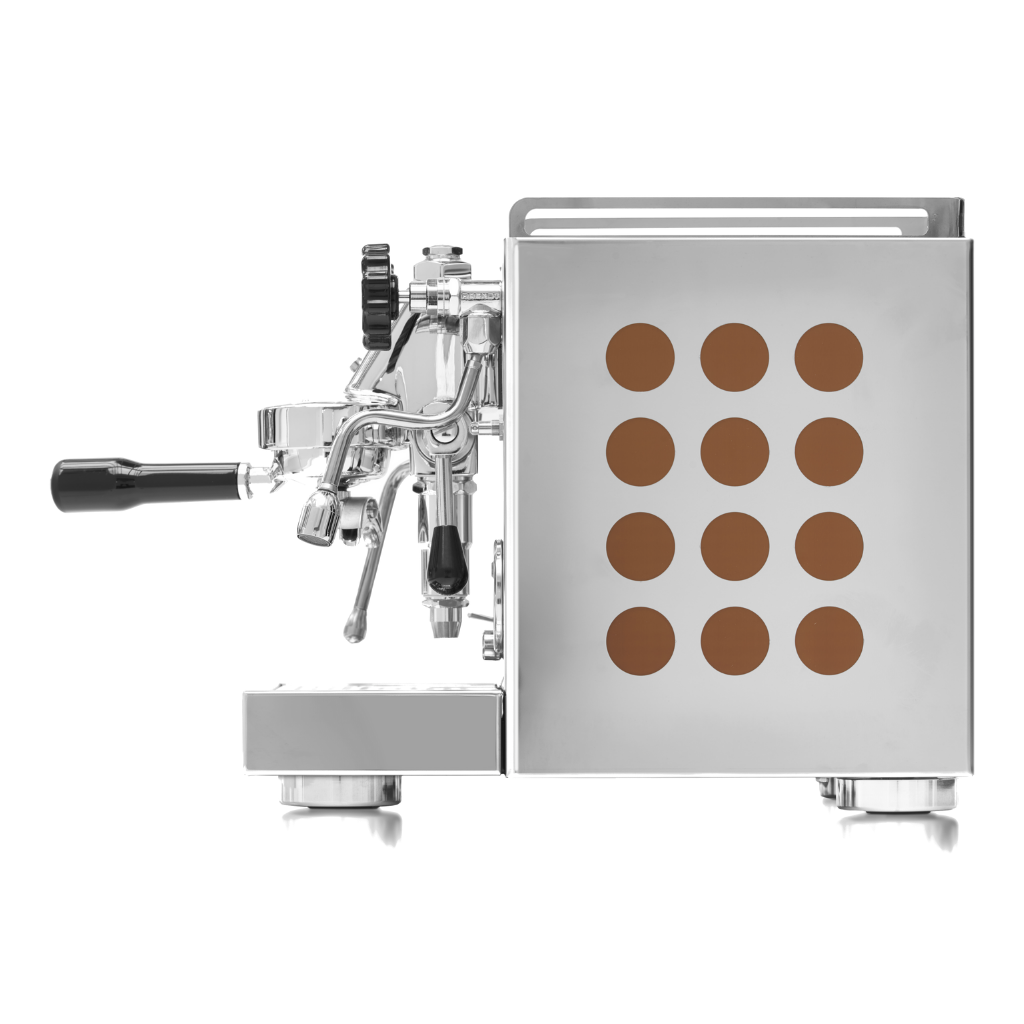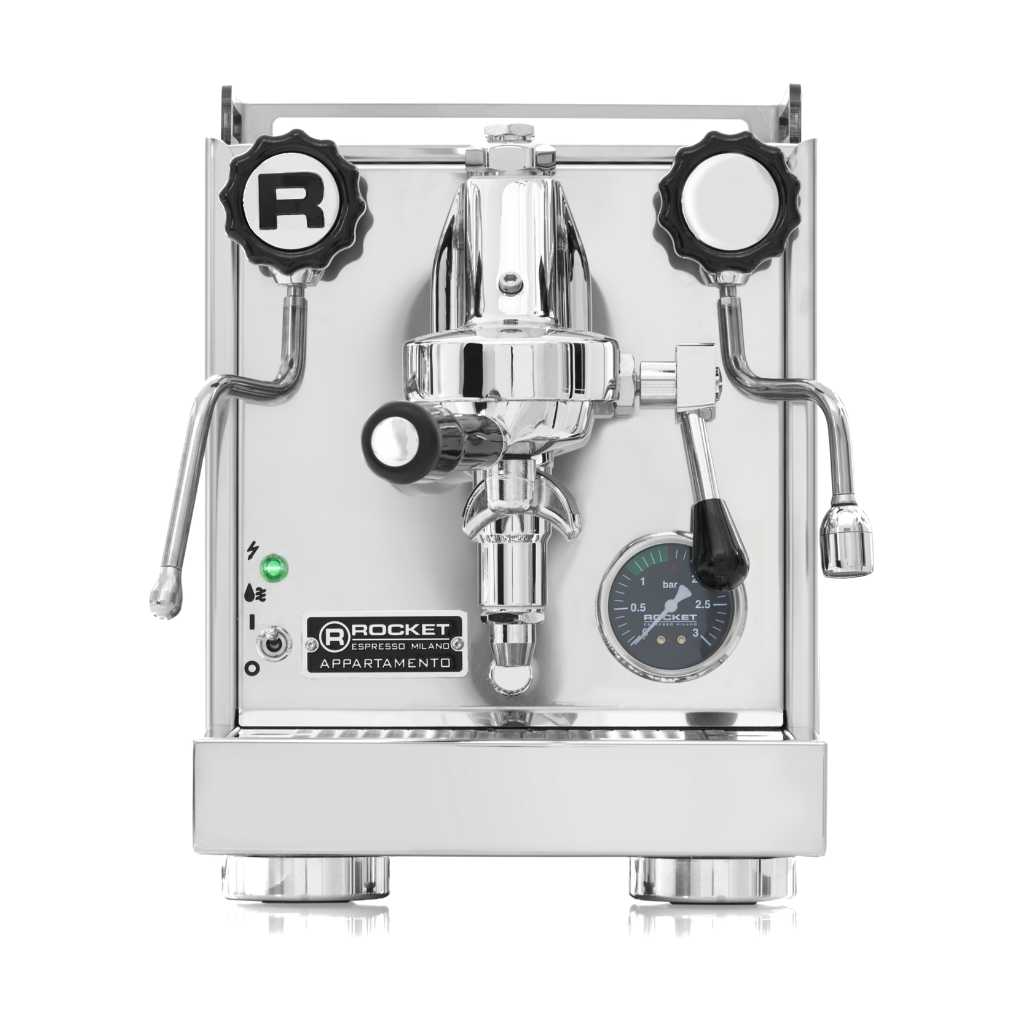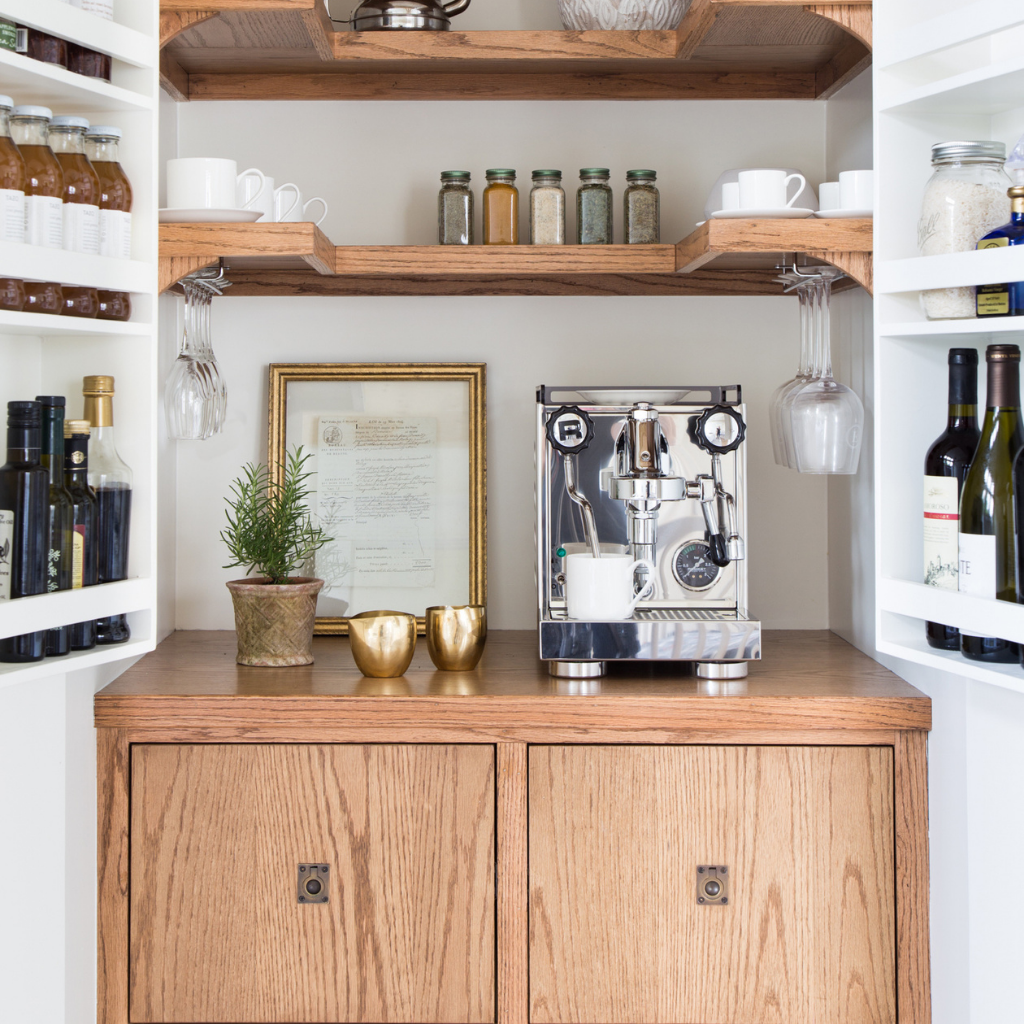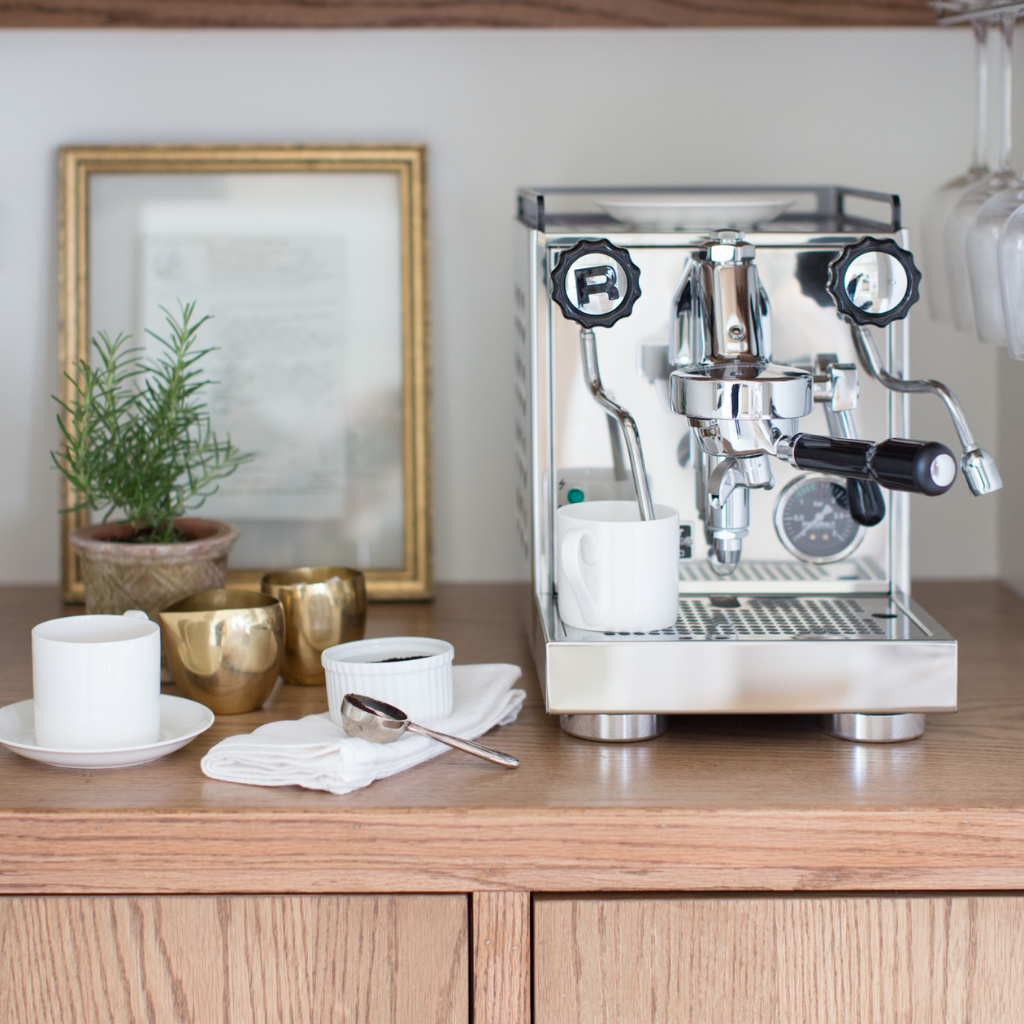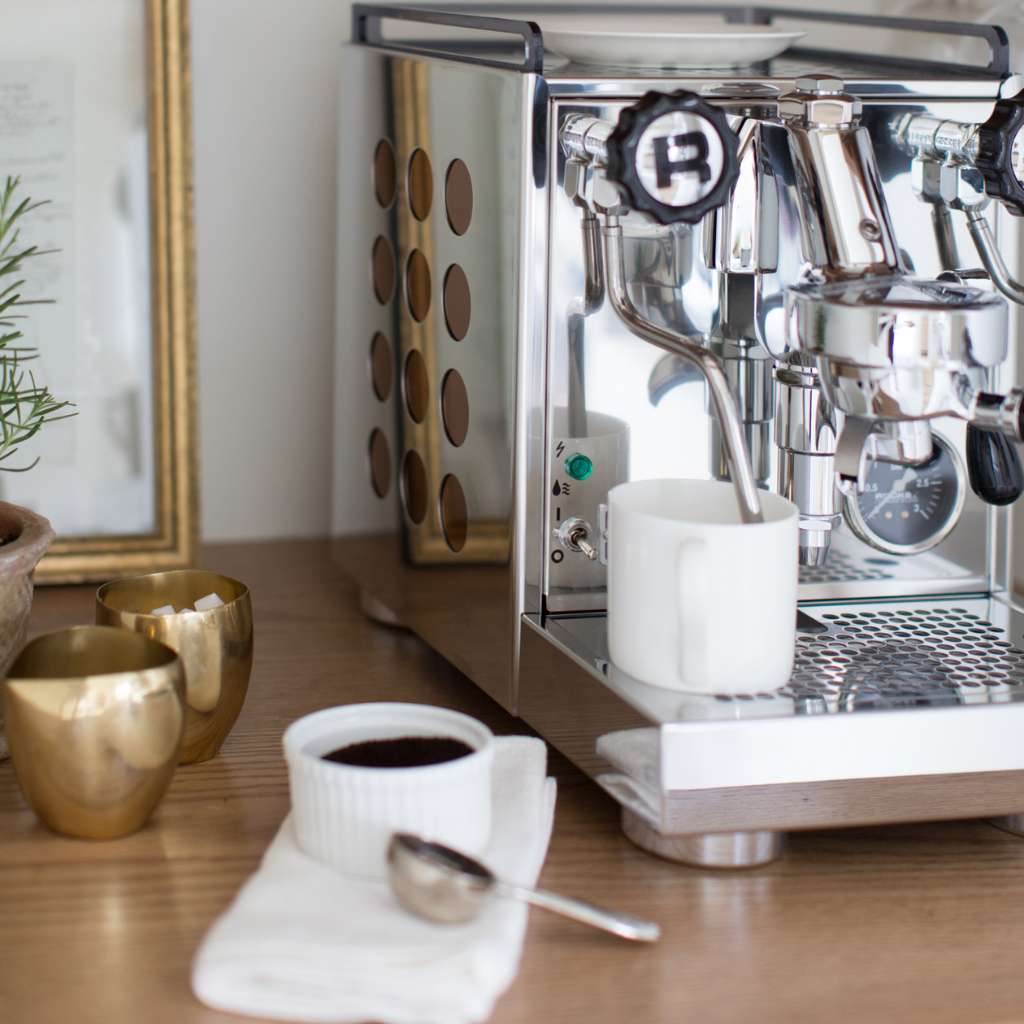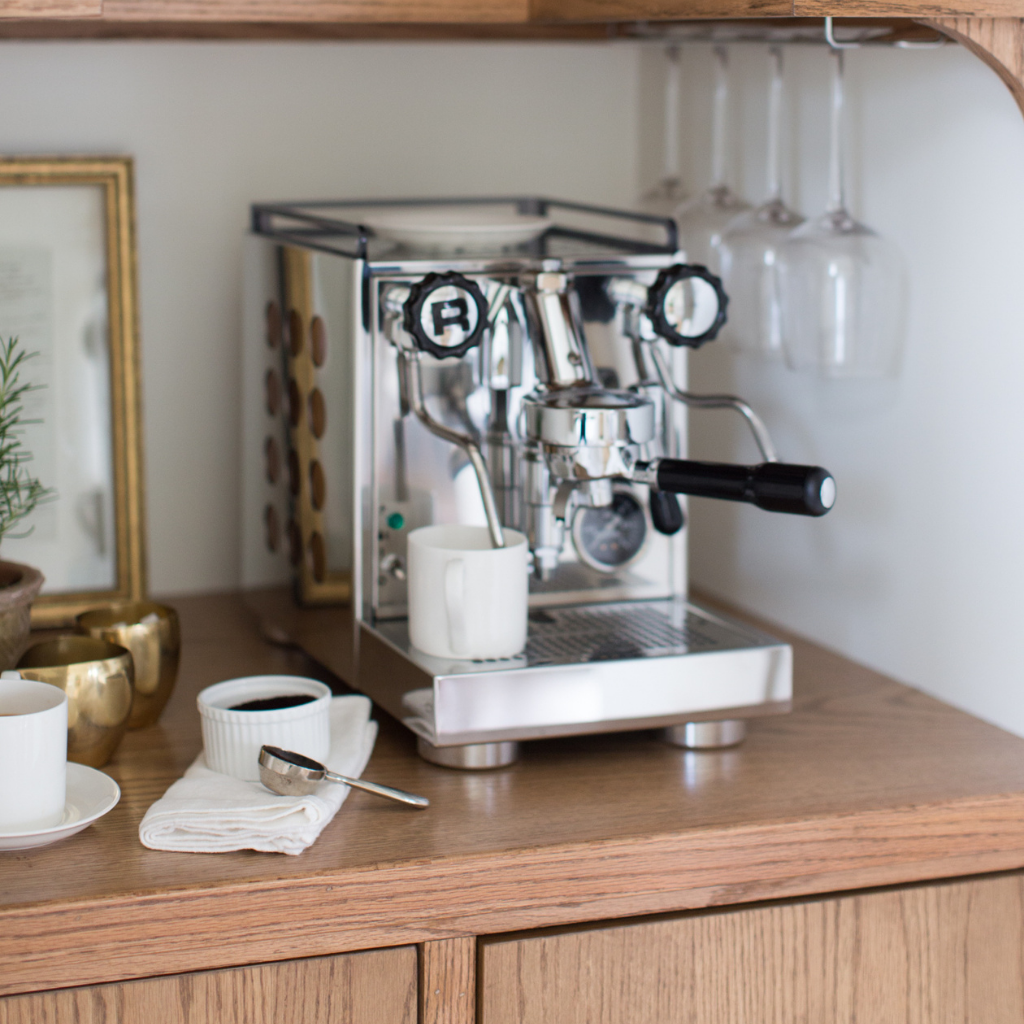 Rocket Espresso Appartamento (copper)
Single 1.8 liter copper boiler
Heat exchanger, brew & steam simultaneously
Commercial grade vibratory pump
Compact dimensions
Steam pressure gauge
No burn steam/hot water wands
Plastic cup rail included

Free Shipping, Returns, Exchanges within 30 days
💰Buy it open boxed for $1,550 in the Sale Center
Returns: Risk Free 30 Day Trial Included. C&P pays return shipping l See Details

Shipping: This product qualifies for FREE shipping.
Delivery: Ships same day if ordered by 12pm (est). Otherwise, 1 business day.
Sales Tax: None if shipped outside Illinois.
Rocket Espresso Appartamento (copper)
Single spouted portafilter with basket
Double spouted portafilter with basket
Rocket Espresso stainless steel tamper
Blind basket for cleaning
Group head cleaning brush
Espresso machine detergent
Rocket Espresso towel
USB with start-up guide
Rocket Espresso Premium Accessory Kit
3 year extended warranty
Risk-free 30 day trial

Shipping - Free

Where - Continental USA only




Returns:

Our return policy last 30 days from the date your order was placed. If within that period, Cliff & Pebble will cover the cost of return shipping.

Length - 3 years

Coverage - Parts & Labor


Warranty shipping is covered by Cliff & Pebble during the first 3 months of ownership.

More From Rocket Espresso
What's a heat exchanger, you ask
?
The biggest problem with non-hx machines is it takes way too long to make a single drink as the machine needs to rebuild pressure in between making coffee and steaming milk.
The Appartamento solves that. With a 1.8 liter heat-exchanging copper boiler you can brew espresso and steam milk simultaneously.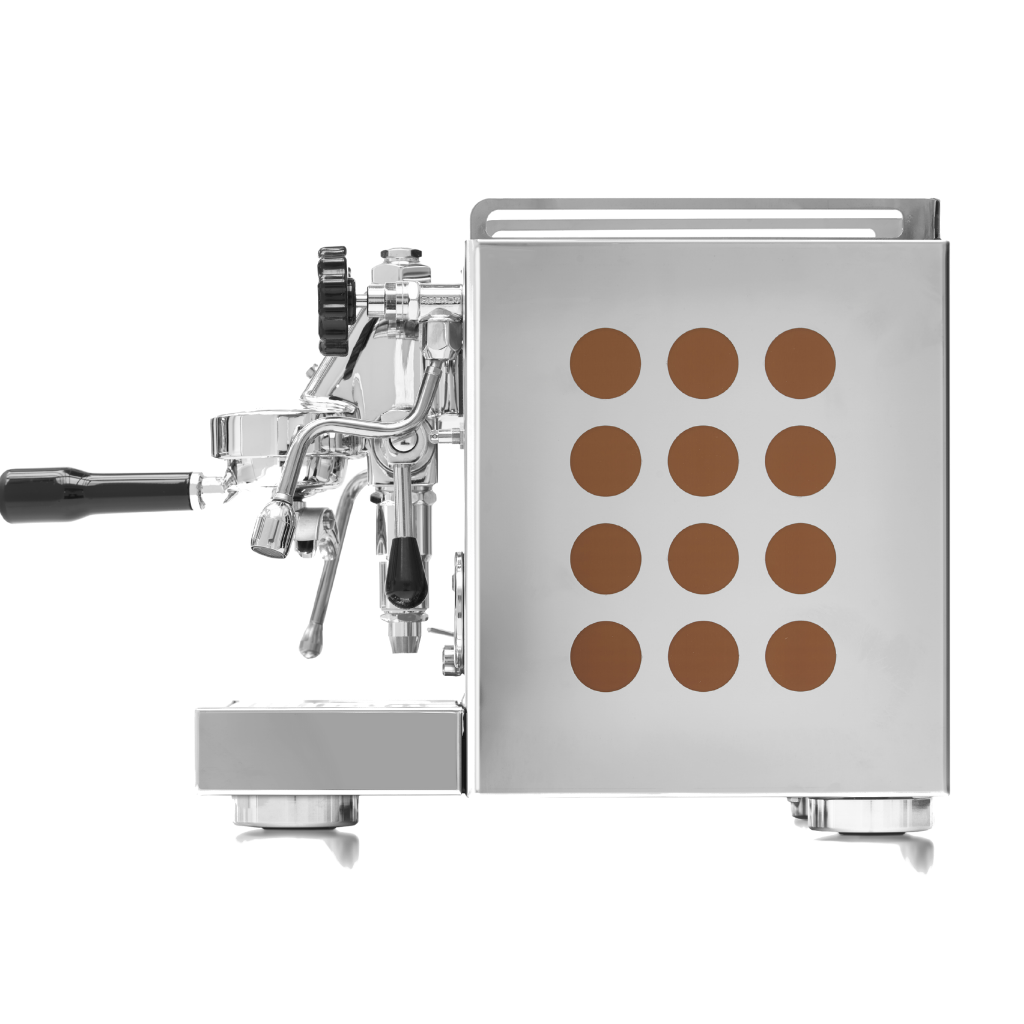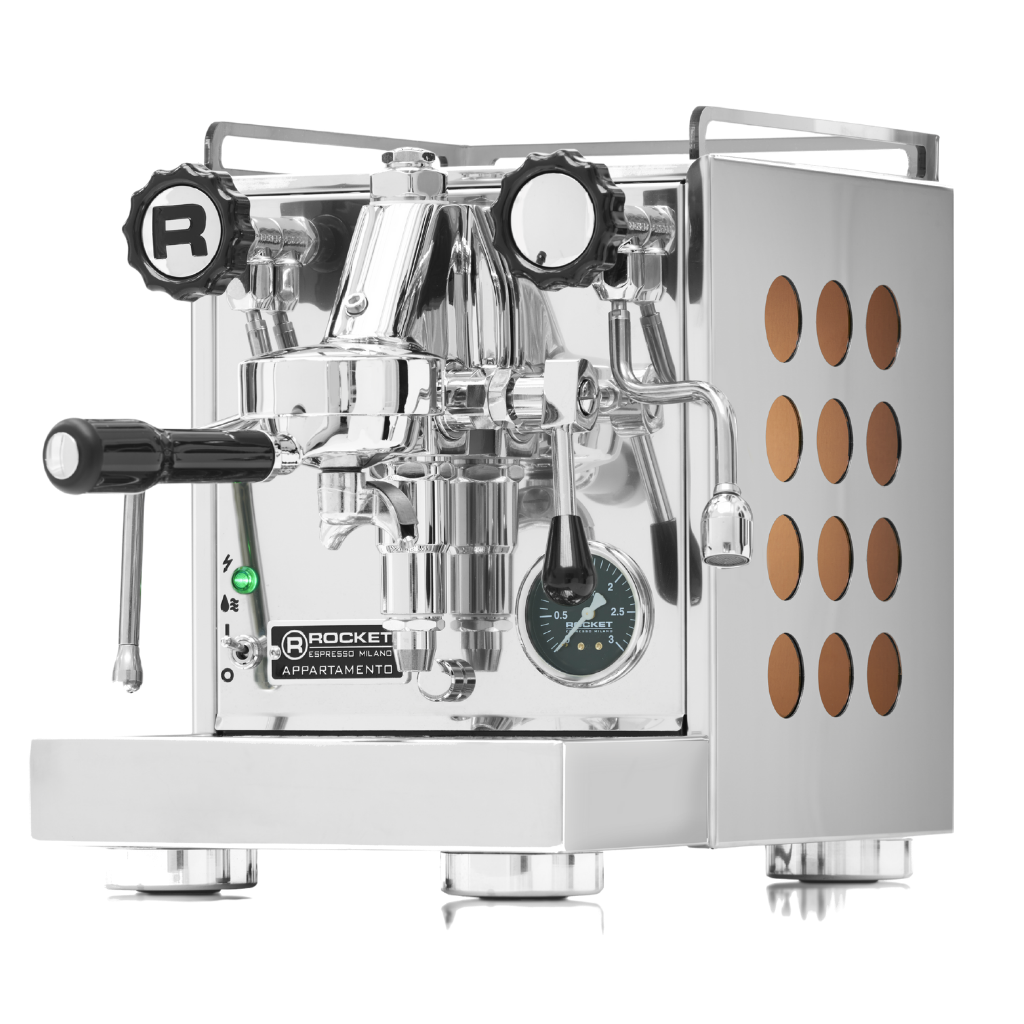 Yes, she's quite a looker
.
Rocket Espresso has become known for their simplistic styling. Combine that with expert engineering and you'll have a machine that'll make your friends jealous.
Available with copper or white cutout side panels and now the Appartamento Nera - featuring black powder coated side and back panels.
Your questions, answered
.
The Appartamento doesn't have PID - is that a big deal?

Not at all.

As long as you give any heat exchanger ample time to heat up (25 to 30 minutes), you do not need PID temperature control.

I've never had a machine like this - will I be able to handle it?

Absolutely!

Rocket Espresso machine are designed to be incredibly user friendly. Like anything, there will be a learning curve when first starting out making espresso at home. However, once you get it (shouldn't take more than a week), you'll never pay for coffee in a store again!

Does it come with everything I need?

Basically, yes.




The only thing the Appartamento doesn't come with standard is a milk steaming pitcher however we give one away with it for free at most times (see product page for details).

What happens if I don't like it?

Cliff & Pebble offers a very generous 30 day risk-free trial on all our espresso machines. If you don't like it, we want it back. We pay the return shipping.




Exchanges are also free.

At the moment we're offering an extended 3 year warranty on the Appartamento. Should your machine ever need to come in for repairs, we handle the cost of shipping both ways. Most dealers will make you pay shipping - we think that's wrong.
Rocket Appartamento - Copper
Successful pre-order.Thanks for contacting us!
Rocket Appartamento - Copper
Featuring a 1.8 liter copper, heat-exchanging boiler, compact dimensions and a stunning stainless steel body (with copper or white side panel options), the Appartamento is a massive step up from anything you can purchase in big box stores or from the bigger brand names. The simplicity of Rocket machines make this machine incredibly user friendly and ready to make you a professional at-home barista in no time.
Read about our risk-free 30 day trial period >
Number
people
viewed this product today
Its 1.8 liter copper boiler paired with a 2.25 liter water reservoir will have you rarely re-filling your machine. It cannot, however, be plumbed.
The boiler contains heat exchanging capabilities allowing the user to brew espresso shots and steam milk simultaneously.
Fitted with an E61 group head, the Appartamento is durable, consistent and maintains thermal stability all day long. (2) 58mm portafilters included.
Ideal for those working with limited space or low-hanging cabinets.
Dimensions - 10.8"W x 16.75"D x 14.2"H
| | |
| --- | --- |
| Made In | Italy |
| Manufacturer | Rocket Espresso Milano |
| Height | 14.2 inches |
| Width | 10.8 inches |
| Depth | 16.75 inches |
| Weight | 44 pounds |
| HOUSING | |
| Material | Stainless Steel |
| Drip Tray | Stainless Steel |
| WATER RESERVOIR | |
| Plumbable  | No |
| Capacity | 2.25 liters |
| Material  | Plastic |
| Low Water Sensor  | Yes |
| BOILER | |
| Material | Copper |
| Capacity | 1.8 liters |
| Insulated  | No |
| Power | 1300 W |
| Automatic Fill | Yes |
| PUMP | |
| Type | Vibratory |
| Recommended Brew Pressure | 9 bars |
| Adjustable Brew Pressure | Yes |
| PORTAFILTERS | |
| Included | (2) Single, Double Spouted |
| Portafilter Size | 58mm |
| Tamper Included | Yes, Rocket Espresso Metal Tamper |
| WARRANTY | |
| Warranty Period | 3 years |
| Coverage | Parts, Labor & Shipping* |
Duration - 3 years
Coverage - Rocket Espresso machines are covered by a one year manufacturers warranty against defects in material & workmanship. Cliff & Pebble extends that warranty by two years - for free! 
*Shipping - Cliff & Pebble covers shipping (both ways) for warranty during the first 90 days. After that period, we're more than happy to help with any issue however the cost of shipping is then on the customer. Parts & labor is still on us!